Not many can ace greens in their living space, either because of space short or having no clue about it. Since green is the new color and trend these days, we see many opting for the green road. Although buying Indoor plants is very easy today, thanks to the nurseries and online portal, the task here is where and how you place them. If you are having demand for space, you can still introduce greens by having Table Top Plants.
Imagine your work desk or coffee table is beautified with cute Table Top Plants that immediately relieve the stress and pressure, jazzing up the place making it more lively and beautiful. Whether you belong to the genre of Plant Lovers or not, none can defy their powerful attraction, cleaning properties, extraordinary features, and soothing nature.
If you are new to the planting world and want to give the green a go, then scroll down for some of the best and most cute Table Top Plants, that demands very little care and maintenance from you.
Succulent Plants
Succulent plants are the right and perfect option for beginners, where you will be presented with loads of options in the online nursery for plants or nurseries near you. They come in varied textures, colors, and types. They have successfully marked their way to the aesthetic décor, making it one of the popular options for home and Office Plants.
They are drought-loving plants, which means it requires minimal care and maintenance. Even if you forget to water them for days, they still will strive their best and look as gorgeous and fresh as new. Their unique features include vertical surface gardening, giving a twist and creativity to plant lovers.
Some of the popular succulent plants are as follows. Once you decide the type you need for your table top, you can buy it in the Best online nursery for plants or the nurseries near you.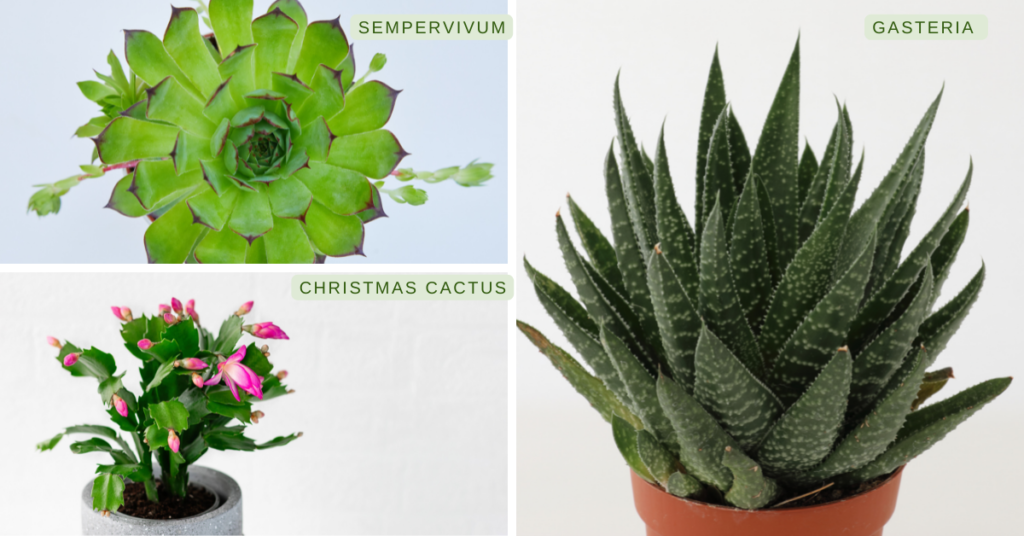 Gasteria
Resembling the shape of the aloe vera plant, Gasteria is a tongue-shaped, thick leaf plant with low-light resistance features. It comes in varied green shades and is a very easy maintenance plant. It makes up the best Table Top Plant, for its non-toxic nature, idle for cats and dogs.
Christmas Cactus
A little unusual and unique in appearance, Christmas Cactus is a popular option for Table Top Plants. The plants' long stem is composed of flat segments that produce white or pink flowers at the ends. They prefer cool temperatures and low-light areas, summoning best placed in corner and office tables.
Sempervivum
It features red and green leaves while presenting a rosette pattern. And to make it more attractive and beautiful, white webbing covers the green leaves. They can survive well in low-light conditions and is an easy maintenance plant.
Air Purifying Plants
Indoor Plants are not just for decor purposes. Their prime agenda is to purify and clean air, moisture, and release oxygen. As per NASA, indoor plants have been proved effective to remove toxins and pollutants by 90%. What can be better than this? Your Table Top Plants not just add an aesthetic appearance but also reduce carbon dioxide, increase humidity, lower air temperature, reduce airborne dust levels, and many more. The following are a few of the best Air Purifying Plants that would perfect the table top plant picture for your home and office.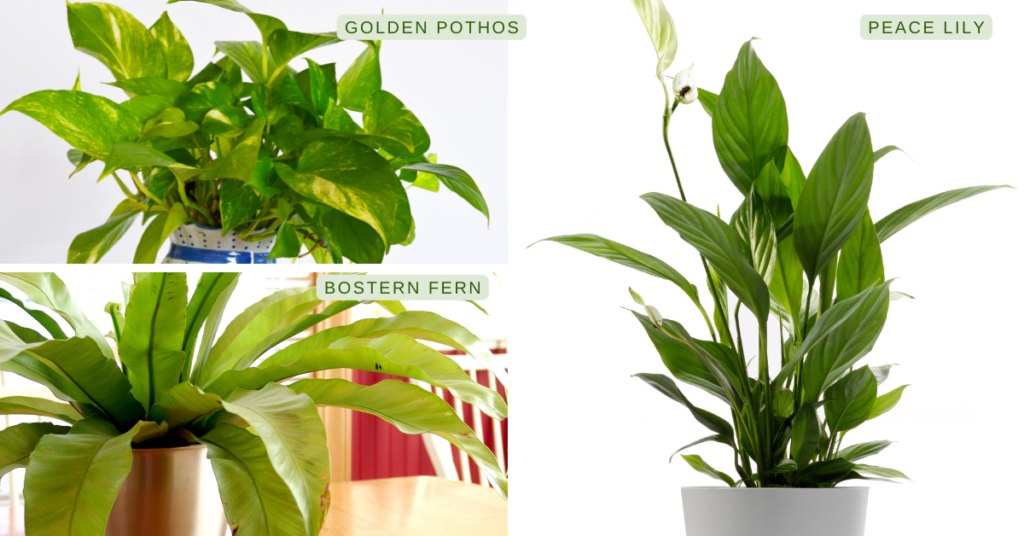 Golden Pothos
Golden pothos leads the list of air purifying plants and is a common house plant, favored by many. They are the natural air purifier, with attractive features, easy maintenance, and non-messy indoor plant. It is also known by many names like devil's ivy, Money Plants, etc. They adapt to all conditions with minimal demands and requirements.
Peace Lily
The peace lily is an undemanding and easy plant, adorned best in coffee and office tables. They stand out for their beauty, elegance, dark green waxy leaves, and white flowers. Their very presence soothes the mind and body, while at the same time purifying the indoor air from harmful toxins and chemicals. You can also Buy Plant Online and deliver it straight to your loved ones gifting them prosperity, health, and happiness.
Bostern Fern
Bostern Fern is an easy-to-grow plant, that attracts viewers with its sword-shaped feathery fronds. Their table top presence immediately uplifts the mood while acting as the natural air freshener. They improve the humidity level and clean the indoor air by getting rid of many harmful toxins and chemicals.
Flowering Plants
The days of flower bouquets are gone, for now, more and more people are interested in having flowering plants on their tables. It gives a sense of liveliness and freshness, stimulating positivity. These beautiful plants last longer than the flowers, which straight goes to bins after their two-day period time. The flowering plants are appealing and attractive, adding décor to the place. Some of the popular flowering plants to decorate your table top is as follows.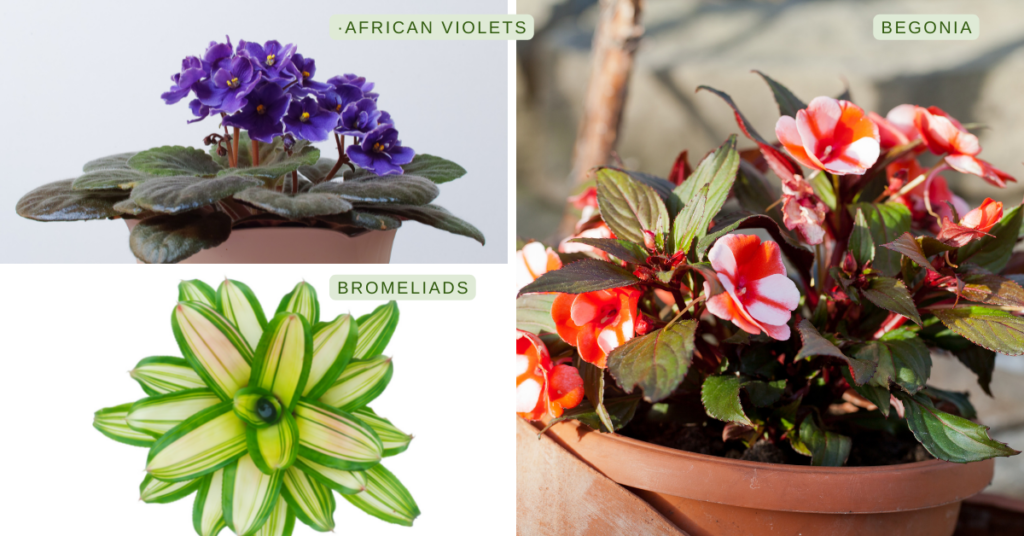 Begonia
Begonia is often considered an outdoor plant, but once you place it on your table, you will be amazed to see its beautiful and vibrant nature. It attracts the viewers with its colorful and strong statement, uplifting and enhancing the mood of the inmates.
Bromeliads
Bromeliads are one of the last longing flowering plants, popular for their colorful foliage and shiny dark green leaves. They are easy to care for and require very little maintenance.
African Violets
African Violets have hairy, thick, ovate dark leaves. The flowers range from white, violet, or pink in color and are symmetrical in shape. They make up an impressive table top plant, presenting a cheerful, vibrant, and royal look.
Bonsai
Bonsai are valued for their quality, age, rarity, and history. They symbolize nature and art, representing boundless beauty, simplicity, and balance. They are considered the best option for Table Top Plants. Bonsai comes with myths circling focusing on particular species of shrubs and trees. It is not the case as the only difference between a bonsai tree and a normal tree is its germinated seed. They make up a beautiful and elegant décor, standing strong while being small. The best part about bonsai is some trees also bear fruits, making it an extra classy and bold-looking tree. They are limited not just for their beauty, but for their stress-relieving qualities, natural air purifier, and provides clean and healthy oxygen. In short, this small plant is packed with bombs of health-benefit qualities and beauty features.
Having plants in your indoor space comes with many benefits, and if there is short of space, then table top plants are always the readily available options. Apart from the above plants, there are many other table top plants like Lucky Bamboo, Sansevieria, terrariums, etc.
You can get more creative and make your mini table top garden as well. For example, you can grow aloe vera along with other succulent plants with a miniature house and pebbles, or a fairy garden theme in a tin container. All you have to do is choose wisely from the wide range of plants, from Taru Vatika, and get guided rightly and beautifully. They are popular for being the Best online plant delivery in India, giving new dimensions and ideas for your little planting world.